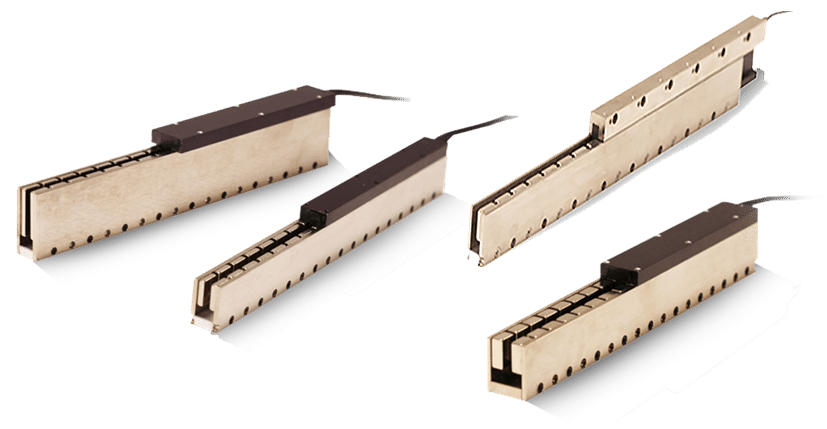 Motors that seamlessly integrate into your system
If you require a motor with the highest degree of quality, accuracy and uniformity, you're in the right place. Airex distinguishes itself by producing a more precise linear motor than other companies are capable of making. How?
The way we approach winding the coil is the heart of our motor; it took years of design iterations to deliver the degree of precision we are able to guarantee. Today, whatever precise functionality your project requires, we can provide that accuracy at the highest quality level at a very competitive cost. The best part of our job is hearing from a potential customer, "We were told this couldn't be done," and then we do it.
We manufacture precision-wound components for military and aerospace industries, and for commercial applications such as semicon and medical industries that require top-performance motoring. Our knowledge of advanced material science, patented winding technology and robotic methodology ensures you receive best-in-class linear motors, rotary motors and voice coils in standard or custom configurations.
For example, Airex linear motors have a time constant of 0.2 milliseconds, meaning the motors can respond much faster with far less current. Simply put, we engineer and design the highest-performance product to fit your specific requirements.
Decades of progress
Airex technology has enabled premium performance in electromagnetic applications going back decades – and we actively improve that performance today. Our technology often applies at the cutting-edge of design and continues to be integrated into upgrades for maturing industries. Airex devices and technologies produce positive outcomes:
In outer space for far-flung satellites
In semiconductor foundries
As part of ultra-clean, ultra-high-vacuum material processing
Inside high-performance surgical tools
In metrology labs at the National Institute of Standards and Technology
Inside super-precision machine tools
In automation and inspection systems found on factory floors
Precision is primary
Airex patented linear motor technology offers three-phase functionality that can travel long distances with the highest degree of precision. Our linear motors thrive on repetition and are long-lasting. When we construct a motor, the coil-winding technique differentiates it from any other in the world. First and foremost, our coils are wound by precision winding machines designed by our in-house engineers. Once robotic machinery produces the coil, each linear motor coil is connected and tested by automatic systems to maximize uniformity and eliminate human error Data collection provides complete traceability through the manufacturing process.
Airex's constant remains producing the highest-quality linear motors commercially available. What does that mean?
Our linear motor time constant is 0.2 milliseconds, meaning if you apply an electrical current to a motor, in .2 milliseconds, it reacts to the current. The best-in-class time constant results in another key feature: improved thermal performance.

Our linear motors can remain in a holding position with a minuscule amount of current resulting in another key feature: less power and reduced heat at the system level.

Our linear motors can accelerate extreme loads very quickly without overheating resulting in another key feature: long life due to our proprietary winding technique.
That is value-added performance our customers cannot find elsewhere.
Airex's history with aerospace programs goes back to 1961, when we began coil winding for Raytheon in the infancy of National Defense Missile Systems. We have evolved through many project partnerships since then while fine tuning material science application and automated manufacturing methods. One company highlight was engineering, designing and developing laminations, test mechanisms and wound-magnetic assemblies for MOD 21 gyro motors used in today's most advanced USAF fighter jets, including the Joint Strike Fighter. We also partner with universities to bring technology advances to the field. One such project was the augmentation of satellite antenna pointing systems, modeled on MILSTAR requirements, utilizing our magnetic bearing technology. Space flight advances are exciting in that they often push the bounds of technology, and we are proud to provide actuators and electromagnetic devices for evaluation and space flight in projects such as Mars explorers and the Cassini mission to Saturn.
Linear motors continue to be crucial to semiconductor manufacturing. In the early days, the surface of the semiconductor wafer was compromised due to the lack of system stability due partly to motor quality. Airex Linear Motors were instrumental in optical positioning systems that improved accuracy to sub-nanometer levels. Positioning stages to process semiconductor wafers continues to be critical for the industry. Pick-and-place equipment based on Airex-engineered linear motors is a key component to many of the current commercial personal communication devices. Optical communication technology used on satellites hundreds of miles above Earth to communicate with similar devices in counter-cyclical orbits are also features of high-performance motoring pioneered by Airex.
 Ready to provide answers to your detailed queries.